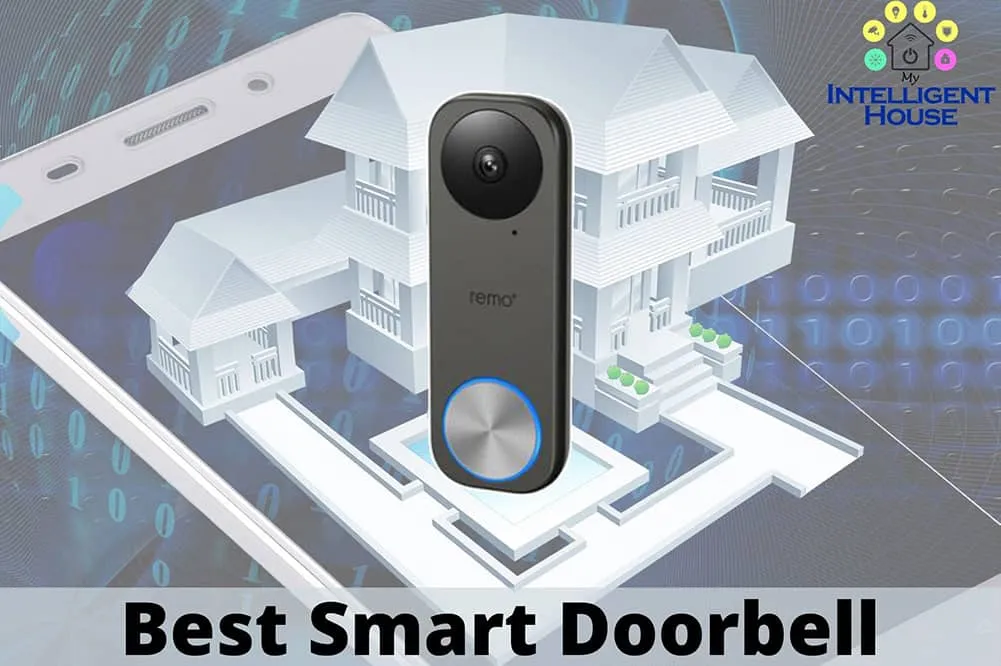 The doorbell has evolved a lot in the past decade. The next generation will have no need for peep holes, nor will the know what a knock-knock joke is. Why ask who's there when you can just look at your phone real quick?
There is a lot of personal preference that goes into choosing a smart video doorbell, but the one I personally recommend is the RemoBell S Video Doorbell (click link to see price on Amazon). The Remobell S has no subscription fees, offers free cloud storage, integrates with other smart devices, and all at a affordable price. It's actually one of the most affordable options on the market right now too!
Top Smart Video Doorbells to Consider (The Runner Ups)
Here are the best smart doorbell that will intelligently heat and cool your house while saving you money at the same time.
Eufy Video Doorbell
A strong contender to the Remobell, but is only a runner up because it doesn't integrate with IFTTT or third-party smart devices. It does have 2k resolution.

Ring Video Doorbell 3
If you are okay with a monthly or yearly subscription fee, this would be the doorbell I recommend. It is battery powered, has dual-band Wi-Fi, and night vision. Ring also has a vast ecosystem of smart devices that are designed to work together.
What Will it Cost to Get a Smart Doorbell?
The cost to get a quality smart video doorbell ranges from sub $100 all the way up to $249. There are some that you can find for less than $80, and those may work if you only need very basic features with low quality video.
What to Look for In a Smart Video Doorbell
There are a lot of options on the market for smart doorbells. And that's because there are a lot of things to consider when choosing a smart doorbell to put on your house. Consider the options and features listed below. I recommend you make some sort of list, or check list, of the things important to you that you can check off as you consider which smart doorbell you're going to use.
Asthetics
I've said it before, and I'll say it again. Looks Matter. A smart doorbell is going to be one of the first impressions of you and your home when visitors come to your house.
There are a few doorbells that actually give you the option to change face plates and offer a variety of colors, instead of forcing you to use a single color. That also opens up the door to buy third party face plates or maybe even use a 3-D printer to make your own.
That said, most of the name brand smart doorbells are decently aesthetically pleasing, and they all look more impressive than the old "dumb" doorbells. This one is mostly a matter of personal preference and taste.
Remote Access
If a doorbell doesn't provide remote access, it isn't really a smart doorbell. If remote access isn't a feature you need, consider just installing a video camera to view your front porch area.
A smart video doorbell allows you to virtually answer the door no matter where you are.
Power Source
There are two options when it comes to powering your smart video doorbell. Wired and Wireless (or both).
A wired smart doorbell will use the existing wiring in your house. Smart video doorbells require 16 volts to work correctly. If your in a newer house, than you are probably fine. The trouble comes in older houses that may not be able to support the power requirement. You may have to upgrade the transformer that supplies power to the doorbell.
Also, some people just don't want to have to deal with the wiring.
The second option is wireless. That means the doorbell runs on battery power. The advantage of this is that you don't have to worry about wiring and can place the doorbell wherever you want. The downside is that you will have to replace batteries
Some models are able to be both wired with a battery backup in the case of a power outage.
Video Doorbell or Security Camera
Video doorbells is similar to adding a security camera to your house. They have a lot of features in common with security cameras. They both feature cameras, which allow for recording when motion is detected and seeing what is going on outside of your house.
If you're looking for something to be tightly integrated with your home security system, consider getting a video doorbell that is part of a security system bundle. Some of the top brands include Ring, Vivent, and SimplySafe.
Smart Home Compatibility
In addition to home security system integration, you will probably want the doorbell to interact with other smart home devices., such as door locks and possibly lighting.
IF you're interested in this type of ingratiation, consider one that supports IFTTT (or another home automation system if you're an advanced user). These systems make it possible for various smart home devices to interact with each other.
The other part to consider is compatibility with your favorite voice assistant. There are some smart video doorbells that allow the user to view a live stream from the doorbell to a video device with only the sound of their voice. It would be something like saying, "Alexa, show me the front door."
Subscription Costs
This is my least favorite thing about the majority of leading smart video doorbells. They all have subscription fees to use more advanced features and to store video in the cloud. Without the subscription, they usually only allow you to view a live stream and get notified when someone rings the doorbell. These brands include Nest, Ring, Arlo, Vivent, and Simplisafe.
The Remobell S that I recommended does not require a subscription. They offer free cloud storage, as well as the option to record locally to an SD card. Another good subscription free option is the Eufy Video Doorlbell
Video Storage
Smart doorbells will store video either locally or in the cloud. The majority of doorbells store video in the cloud. There are a few that store video locally.
There are a variety of reasons to store video in the cloud. It allows for video to be accessed easily from anywhere, even if there is a power outage at our house. If the video is stored locally, you may loose access if your home network goes down. The second reason, in my opinion, is that it is a good way for the companies to make money from forcing users to use their subscription.
Video Resolution
It is easier to identify people and surrounding objects with a higher resolution. Video doorbells started out with 720p, and most these days use 1080p. They best one on the market today is the Eufy that I mentioned earlier. The Eufy has 2k resolution, which is twice as good as 1080p, and half as good as 4k.
Why Use a Smart Doorbell?
Security – See Who Is At The Door
A smart video doorbell can add an extra element of security to your home by keeping an eye on the front door. They provide a way to communicate with strangers who ring your doorbell without ever having to open the door. This helps prevent forced home entry by burglars.
And when you are not home, they keep an eye on packages that get dropped off while you are away. It won't necessarily stop a thief, but it sure is a good deterrent.
Free Replacement If Stolen
A lot of the leading brands offer free replacement of your smart doorbell in the even that it is stolen. They claim it is a simple process of contacting customer service and providing a police report of the incident.